About us
The history of the Kevorkian collection and gallery spreads over three continents and and three generations. It roots in 19th century Asia Minor where the Kevorkian brothers were born in the 1870s. It then flourished between New York, Paris, Tehran and Mumbai where the Armenian brothers swarmed and settled down.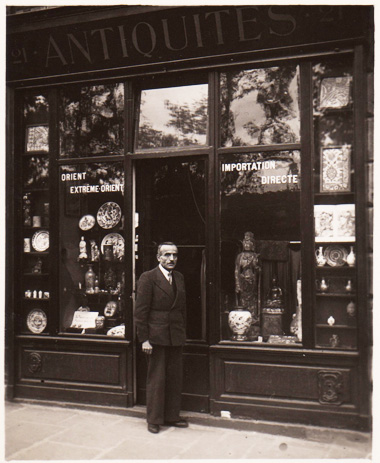 Carnig Kevorkian moves in Paris

One of them, Carnig opens a first shop in Paris, in the jewellers and antique dealers district of Drouot. In 1923, he opens a new address, 21 quai Malaquais, on the left bank of the Seine, where the Galerie Kevorkian is still located today. In the meantime in New York, another brother, Hagop, builds a huge collection of Ancient Near Eastern and Islamic art, including an eponymous Mughal album of miniatures and calligraphies and some Houghton Shah Name pages. Some remnants of this collection regularly appear in public auctions and many others are preserved in some of the most prestigious American museums, such as the Metropolitan Museum of Art, the Freer Gallery in Washington or the Cleveland Museum of Art. The Hagop Kevorkian Gallery in the Brooklyn Museum shelters twelve Assyrian stone reliefs, donated by Hagop in 1955. He also created a foundation in New York which first established a chair at Columbia University and then at New York University.

If Hagop's destiny and personality were flamboyant, the qualities which probably defined best Carnig were his modesty, his integrity and his genuine and selfless love for his profession. Those as well as his deep respect for his customers won him the unswerving loyalty of the most prominent collectors of his time, such as Jean Pozzi, Calouste Gulbenkian and his son in law, Kevork Essayan.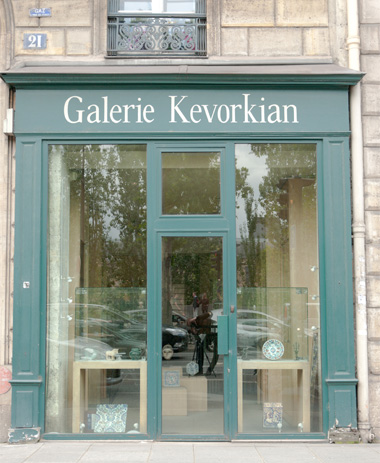 Anne-Marie Kevorkian takes over the gallery

In 1964, when his daughter Anne-Marie took over the family business, she benefited from the trustful relationships established between her father and his distinguished customers, whose connoissorship was to permanently impress upon the knowledge in Ancient Near Eastern and Islamic Art History. She had in her hands whole sections of H.-R. d'Allemagne, Tabbagh, Gulbenkian-Essayan, Pozzi and Sakisian collections.

On the other hand, Stuart Cary Welch, Sadruddin Aga Khan, Edwin Binney became regular customers of the gallery, where the Qatar Museum of Islamic Art and the Barbier-Mueller Museum also purchased pieces for their collections.

As a specialist for public auctions, she sold between 1980 and 1982 at Hôtel Drouot, the most important collection of its kind of Luristan bronzes, « Amlash » art and Islamic ceramics.

She also wrote in collaboration with J.-P. Sicre a book on Persian Miniature Painting : « Les Jardins du Désir – Sept Siècles de Peinture Persane », ed. Phebus, 1991.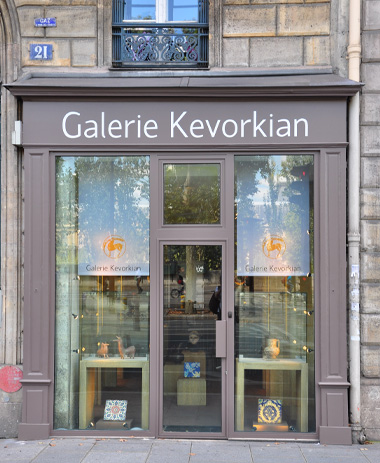 Corinne Kevorkian joins 21 quai Malaquais

In 2006, Corinne, Carnig's granddaughter, takes over the management of the Galerie Kevorkian in association with Annie.

Her arrival initiates the gallery's participation in major international Art fairs such as the Biennale Paris as soon as 2006, TEFAF Maastricht since 2013 and TEFAF New York Fall since 2016, introducing for the first time in these world-renowned events, the specialties of the Arts of the Ancient Near Eastern and Islamic world, of which they were hitherto absent.
During the successive editions of these venues, major French and international, long-established or emerging institutions, have acquired pieces exhibited by the Galerie Kevorkian.

About one century has passed since her ancestors contributed, among other pioneers, to the discovery and study by the Western world of the arts of those Eastern cultures and civilizations. Corinne defends those arts with an unimpaired enthusiasm and sees in her activity a way to promote their profound originality, their astounding modernity as well as their incredible poetical and imaginative power.

Annie and Corinne Kevorkian are members of the CNE (Compagnie Nationale des Experts) and Corinne is a member of the IADAA (International Association of Dealers in Ancient Art) and of the SNA (Syndicat National des Antiquaires) of which she was general secretary from 2014 to 2019 after joining its board in 2012.

The Galerie Kevorkian also participated in the 2018 edition of Parcours des Mondes in Paris and exhibited an exceptional selection of Luristan bronzes from the David-Weill collection at Frieze Masters London in 2019.

Since 2001, works of art from the family collection and from the gallery have been loaned to the exhibitions : « Afghanistan, a Timeless history » which travelled from the Fundacion Caixa in Barcelona, to the Musée Guimet des Arts Asiatique in Paris, the National University Museum in Tokyo and the Museum of Fine Arts of Houston and « Bronzes du Luristan – Enigmes de l'Iran Ancien » at the Musée Cernuschi in Paris.